BreizhÉire
Present a Night of Culture with Voices of Brittany, Irish Music, World Folk Music and Jazz.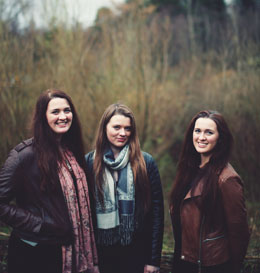 Anna, Sheila and Clare Friel are young traditional musicians born in Glasgow with their family roots firmly entrenched in the Donegal Gaeltacht (Derrynamansher). Being siblings, they achieve a close blend on fiddle, flute and uilleann pipes interspersed with songs sang in unison, many from their family and local repertoire.
They have performed in various venues and festivals across Europe, America and Asia and have appeared as guests on stage or toured with acts such as Altan, The Chieftains, Lúnasa, The Máirtín O'Connor Trio, Cherish the Ladies, Solas and Fidil. Summer 2013 saw the girls record their debut album at their home in Donegal with guest musicians Gearoid Mooney, Seamus O'Kane and Griogair Labhruidh. 2016 sees an exciting time ahead as they embark upon the process of recording album.
Steren and Anna are two young singers from Brittany. They are both 21 years old.They both speak breton, the native language of Brittany. They went to school in Diwan,equivallent of Gaelscoil in ireland, the bilingual school teaching Breton and French. They sing in the Brittany language, the Kan ha Diskan.
It's the name of this band of  friends based in Belfast, of course. Bal Feirste means Belfast in Irish! They are composed of  Bretons, Irish and French.
They are music and dance enthusiasts organizing bals and workshops for all folk and traditional dance lovers. They play folk music for dances from all regions of France and beyond.
Bal Feirste have a regular meeting in Madden's Bar, Belfast on the second Saturday of the month.
Mael Guégo & Tristan Guillaume
Mael Guégo is from Lorient and Tristan Guillaume from Kemper, two cities of South Brittany well known for their big Celtic festivals. The Interceltic Festival and the Festival of Cornouaille.
Mael plays acoustic and electric guitar and bouzouki. Tristan plays drums and key board. They are both musiciens in different other bands in Brittany and mainly in bands playing for the folk dance reunion called Fest Noz. Tristan is part as well of the Bagad of Kemperle, a pipe band, where he plays drum and bombarde, a traditional Breton aerophone instrument.
Jazz is also the passion of Guego and Guillaume. For this Brittany night, they will celebrate the fusion of their two passions, Brittany music and Jazz.
And during all the night, the traditional food from Brittany will be made and served : Crepes . The sweet crepes made of wheat and the savoury ones made of buckwheat.
Kan ha diskan
 is probably the most common type of traditional 
music of Brittany
. It is a vocal tradition (
kan ha diskan
 translates from 
Breton
 as, roughly, 
call and response singing
). The style is the most commonly used to accompany dances. It has become perhaps the most integral part of the Breton roots revival, and was the first genre of Breton music to gain some mainstream success, both in Brittany and abroad.
The lead singer is the 
kaner
, and the second singer is the 
diskaner
. The kaner sings a phrase, and the diskaner sings the last few lines with the kaner, then repeats it alone until the same last few lines, when the kaner again joins in. The phrase's repetition is changed slightly in each execution. Kan ha diskan can be songs about any subject, but must meet one of a number of a meters used in folk dances, mostly 
line
 or 
round
. 
Vocables
, or nonsense syllables (typically 
tra la la la leh no
), are sometimes used to drag out lines. Usually a 
kan ha diskan
 lasts from 5 to 20 minutes.
A
Fest Noz
(
Breton
for
night festival
) is a
Breton
traditional festival, with dancing in groups and live musicians playing acoustic instruments.
Although it is all too easy to write off the 
fest noz 
and 
fêtes folkloriques
 as modern inventions, most of the traditional dances of the Fest Noz are ancient, some dating back to the 
Middle Ages
, providing a way for the community to grasp hold of its past and relish a deep sense of being with ancestors and with place. On 5 December 2012 the fest-noz was added by 
UNESCO
 to the 
Representative List of the Intangible Cultural Heritage of Humanity
.